The Fokker Dart Chair
The Fokker Dart Chair is a gorgeous Italian cowhide chair in brown and cream on a steel frame from a Fokker F27 Friendship mid 1960's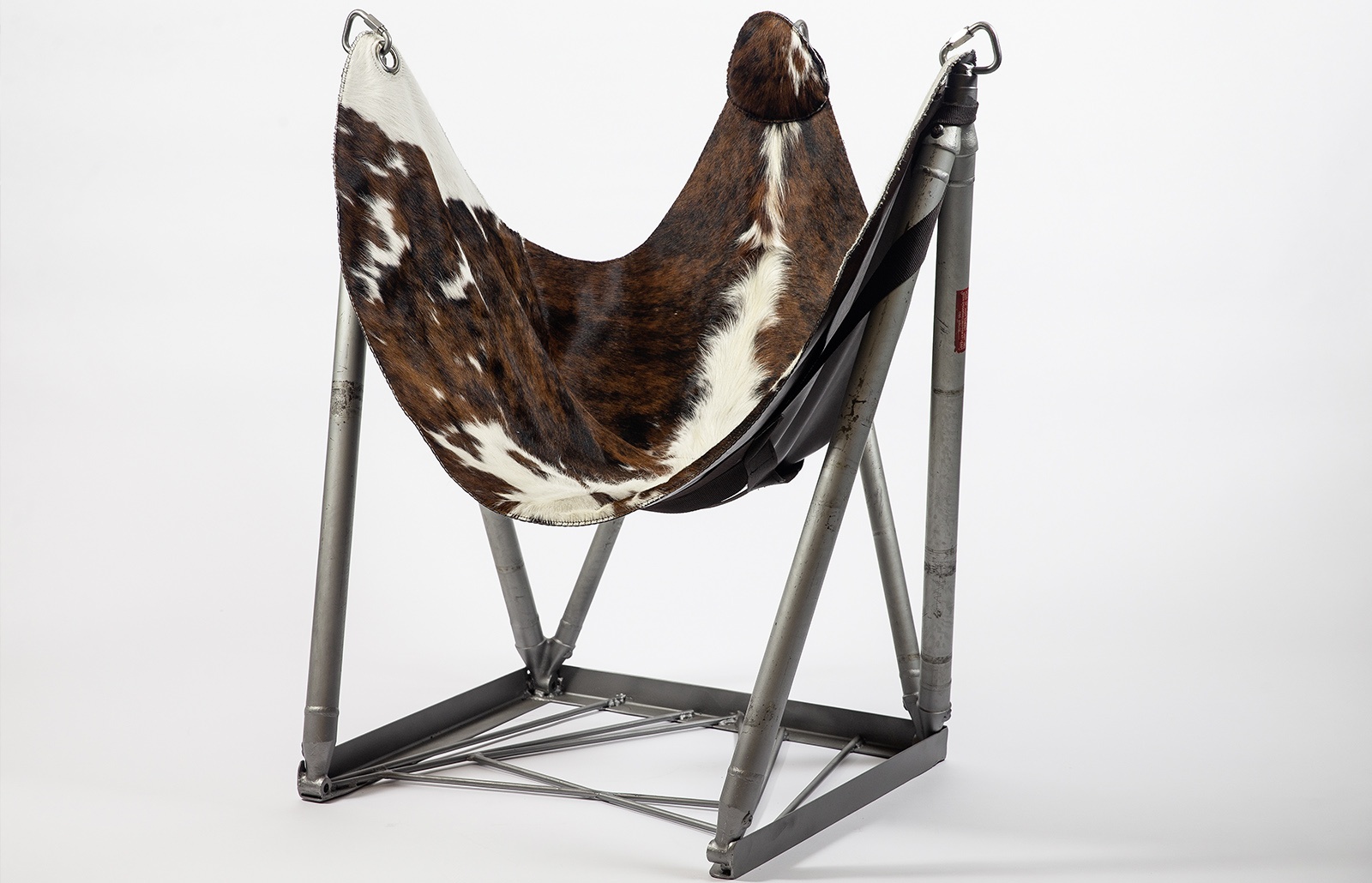 In a very limited edition run of just 6 and made to order – The Fokker Dart Chair is a gorgeous Italian cowhide chair in brown and cream on a steel frame from a Fokker F27 friendship mid 1960's.
The frame cradles the Rolls Royce Dart turbo prop jet engine. This one, being the first of the run of 6, has just been finished and is ready to find its owner in a home or office.
If you would like to order one with a different leather and colour, then please contact us
Fokker F27 Friendship.
The Fokker F27 Friendship is a turboprop airliner developed and manufactured by the Dutch aircraft manufacturer Fokker. It is the most numerous post-war aircraft manufactured in the Netherlands; the F27 was also one of the most successful European airliners of its era.
The F27 was developed during the early 1950s with the intent of producing a capable successor to the earlier piston engine-powered airliners that had become commonplace on the market, such as the Douglas DC-3. A key innovation of the F27 was the adoption of the Rolls-Royce Dart turboprop engine, which produced substantially less vibration and noise which provided improved conditions for passengers; another major comfort feature was cabin pressurisation. Innovative manufacturing techniques were also employed in the aircraft's construction.
On 24 November 1955, the F27 made its maiden flight;
Rolls-Royce RB.53 Dart.
The Rolls-Royce RB.53 Dart is a long-lived British turboprop engine designed, built and manufactured by Rolls-Royce Limited. First run in 1946, it powered the first Vickers Viscount maiden flight in 1948, and in the Viscount was the first turboprop engine to enter airline service, with British European Airways (BEA), in 1950. On 29 July 1948 a flight between Northolt and Paris–Le Bourget Airport with 14 paying passengers in a Dart-powered Viscount was the first scheduled airline flight by any turbine-powered aircraft.
The Dart was still in production when the last Fokker F27 Friendships and Hawker Siddeley HS 748s were produced in 1987.